Smartbatch™ Color and Additive Concentrates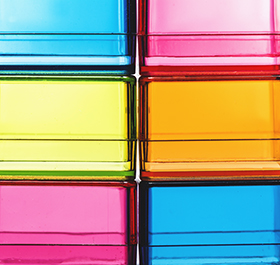 Sometimes, simpler is smarter. Smartbatch™ concentrates combine the brilliance of custom colors with the functionality of our performance-enhancing additives in a single formulation. Our color formulation skills are unparalleled, and our additive solutions can improve your process, or enhance the quality of your parts. We can also formulate a concentrate that does both.
Smartbatch color and additive concentrates are easy to use, practical and extremely cost-effective. A single formulation can make a huge difference in the quality of your products and also improve the efficiency of your manufacturing process. Contact PolyOne today to learn more about Smartbatch color and additive solutions, and together we will select the right choice for your applications.
Highlights
Smartbatch™ is a combination of color with a functional performance-enhancing or processing additive, in one solution. These specific combinations incorporate our wide range of colors - both from stock and custom formulations - and additives. Functional performance and processing improvement capabilities of Smartbatch additive concentrates include:
Antiblock/slip
Antifog
Antimicrobial
Antioxidant
Antistatic
Antisticking
Blowing agent
Cleaning or purge agents
Compatibilizer
Flame retardant
Infrared absorbing
Mold release
Processing aid
UV stabilizer/UV barrier
| NAME | CATEGORY | DESCRIPTION | |
| --- | --- | --- | --- |
| Automotive Interior - Case Study | Case Study | Specialty color and additive Smartbatch™ concentrate developed with carbon fiber to produce desired effect for automotive interior | View |
| Color and Additives Solutions Overview | BU Overview | Customized color and additive solutions | View |
| Exterior Automotive Trim - Case Study | Case Study | OnColor™ FX Smartbatch™ adds metallic style and improves cost performance of exterior automotive trim | View |
| Oncap™ and Smartbatch™ Lasermarking - Technical Bulletin | Technical Bulletin | Features and benefits of lasermarking for the wire and cable industry, which use Oncap™ and Smartbatch™ solutions | View |
| Paint Replacement for Automotive Center Console - Case Study | Case Study (Brief) | SmartBatch™ FX MasterBatch delivers the appearance and performance of a painted part for an automotive console | View |
| Paint Replacement for Construction Vehicle Panel - Case Study | Case Study (Brief) | SmartBatch™ FX MasterBatch delivers the appearance and performance of a painted panel | View |
| Photovoltaic Floating Power Station - Case Study | Case Study | Explore how floating solar power stations get weathering protection from anti-uv color concentrate | View |
| Smartbatch™ Blow Molding - Brochure | Brochure | Smartbatch™ formulations blend design and function in one masterbatch solution. | View |
| Smartbatch™ Frost Collection - Product Bulletin | Product Bulletin | Product description, value solution, key characteristics, markets and applications of SmartBatch™ Frost Collection | View |
| Smartbatch™ Frost Collection - Product Bulletin (Chinese) | Product Bulletin | Product description, value solution, key characteristics, markets and applications of SmartBatch™ Frost Collection | View |
| Water Storage and Purification Equipment - Case Study | Case Study | Laser-marking additive, an authentication additive, and colorant— bundled into a single Smartbatch™ concentrate | View |
| Water Storage and Purification Equipment - Case Study (Chinese) | Case Study | Laser-marking additive, an authentication additive, and colorant— bundled into a single Smartbatch™ concentrate | View |