Management Approach: Supplier Collaboration
Avient's value extends not only to consumers through specialty products, but beyond the boundaries of our own processes and operations. Strong, transparent relationships with suppliers are key to our success.
Our Supplier Code of Conduct drives interactions with our suppliers
and expectations for doing business. In 2020, we updated our Supplier Code of Conduct to align more closely with International Labor Organization (ILO) standards. It includes requirements for child and forced labor, the right to collective bargaining, non-discrimination, employee health and safety, conflict minerals OECD due diligence and ethical treatment of the environment.
In addition, our ColorMatrix Europe business continues to adhere to our established policy and supplier audit program on human trafficking. None of our ColorMatrix suppliers has been found to engage in human trafficking during this reporting period.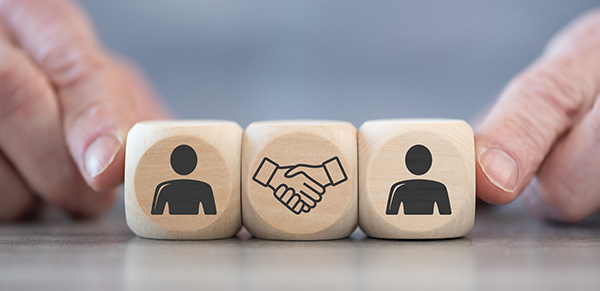 Supplier Evaluation
We seek to collaborate with excellent organizations that espouse our values and principles to bring innovation, sustainable materials and efficient processes to Avient and our customers.
We are going beyond simple economics and consistency of supply to evaluate our suppliers. In 2020, we partnered with EcoVadis to further evaluate our prioritized suppliers.
We evaluated our top tier suppliers which represents 39% OF OUR TOTAL DIRECT SPEND for sourcing in this reporting period.
This represents an 87% participation rate in the CSR survey. In addition, 67% of these suppliers reported a Silver rating or above in their overall scorecard evaluation. We are targeting 50% of our total direct spend as a 2021 interim milestone toward our 2030 Sustainability Goal.
Our suppliers conducted a best-in-class self-assessment on environmental, social and governance requirements aligned with the UN Global Compact principles.
Over 420 supplier self-assessments were completed through our Quality Management System (QMS) process over a two-year period in 2018 and 2020 and incorporates approval criteria for our most sensitive applications. These assessments are reviewed internally for potential further action. We continue to develop our Supplier Sustainability Program designed to address quality, cost and reliability requirements, and a range of sustainability, social responsibility and environmental considerations.
Our No Surprises PledgeSM is the overarching framework for how we engage with all our partners in the value chain. We expect our supplier base to help us achieve this pledge.
To ensure mutually beneficial and productive relationships, Avient asks all suppliers to adhere to our safety procedures and security policies within our manufacturing plants, distribution centers, as well as our sales, regional, or corporate offices.