Core™ Vinyl Plastisols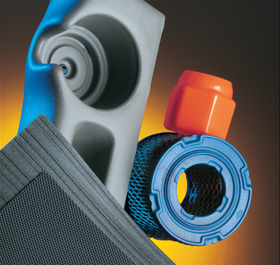 Core™ Vinyl Plastisols are customizable to suit a range of processing technologies.
Core™ Vinyl Plastisols are the flexible choice for a broad selection of functions and applications. These dispersions of PVC resins are available in a range of hardness and colors and for many different uses. Liquid at room temperature, they can be poured, pumped, sprayed or cast, depending on the formulation and its resulting product.
HIGHLIGHTS
Ease of use and economy in coating and molding applications
Dip coating for tool handles, grips, textiles, wire grates, plating racks, conveyor hooks and more
Hot dipping
Cold dipping
| NAME | CATEGORY | DESCRIPTION | |
| --- | --- | --- | --- |
| Automotive Solutions Brochure - Industry Overview (European Version) | Industry Bulletin/Overview | Automotive Solutions - Colorants, Additives, Advanced Composites, Engineered Polymers, Elastomers, Vinyl, Polyolefins | View |
| Applications of Primers and Vinyl Plastisols - Technical Assistance Brief | Technical Bulletin | Technical Assistance Bulletin SC005: Primer information, general vinyl plastisol properties, plastisol applications - dip coating, slush molding, rotational molding, dip molding, open molding and cast coating | View |
| Automotive Solutions Brochure - Industry Overview | Industry Bulletin/Overview | Automotive Solutions - Colorants, Additives, Advanced Composites, Engineered Polymers, Elastomers, Vinyl, Polyolefins | View |
| Emissions Generated During the Fusion of Vinyl Plastisols and Organosols - Technical Assistance Brief | Technical Bulletin | Technical Assistance Bulletin SC001: Fumes and vapors emitted during baking or fusing of plastisols and organosols | View |
| Hot Dip Coating of Vinyl Plastisols - Technical Assistance Brief | Technical Bulletin | Part cleaning, part priming, part dipping, vinyl plastisol fusion, cooling the coated part, basic line design and basic dip tank design | View |
| Storage and Handling of Vinyl Plastisols - Technical Assistance Brief | Technical Bulletin | Technical Assistance Bulletin SC002: Proper handling and storage practices for vinyl plastisols to maximize shelf life | View |
| Slush Molding Process - Technical Assistance Brief | Processing Guides | Slush molding process explained | View |
| Rotational Molding Process - Technical Assistance Brief | Processing Guides | Four stages within the rotational molding process | View |
| Rotational Molding of Vinyl Plastisols - Technical Assistance Brief | Technical Bulletin | Technical Assistance Brief SC004: Overview of vinyl plastisol and starting points in setting up and running rotational molding of vinyl plastisol parts | View |
| Hot Melt Vinyl Plastisols - Technical Assistance Brief | Technical Bulletin | Technical Assistance Brief SC003: Processing equipment, master mold preparation, plastisol processing, pouring and properties | View |
| Specialty Coatings and Automotive Technology Solutions - Brochures & Product Information | Brochures & Product Information | Specialty Coatings and Automotive Industry Vinyl-Based products and solutions | View |