Wilflex™ Epic Color System MX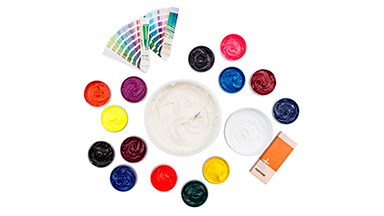 Easy to Use, easy to mix color mixing system with 15 intermixable colors to product PANTONE® simulations.
Wilflex™ Color System MX is a simple finished ink system that allows access to simulations of the entire Pantone® spectrum with just 15 inter-mixable colors.
MX Mixing colors are single pigments offering balance of color, accuracy, and printability and features base chemistry that provides a matte surface finish and is optimized for wet-on-wet printing.
The MX Color System is supported by IMS Software, available for a standardized color matching process, and is Pantone-approved for accurate color matches. 
---
Product Name
Attribute
EPIC PF Mixing White
Very strong mixing white. Higher loading for increased opacity..
EPIC PF Black
Strong black with bluish tint. Used to make blue-tinted grays and as a general purpose black
EPIC PF Orange
Opaque red shade orange with slight blue undertone
EPIC Red NM
EPIC PF Red
Very strong blue shade red. The tint is very blue and not clean. Used to create maroon or burgundy colors, requiring a blue undertone.
EPIC PF Magenta
Strong, clean magenta with blue undertone. Excellent for making fuchsias and rhodamine colors.
EPIC PF Violet
Very strong blue-shade purple. Its color and tinting strength produce effective color with small amounts. Excellent for opaque purples and royals.
EPIC PF Marine
Strong, clean blue with a slight red undertone.
EPIC PF Blue
Strong green-shade blue. Used in blue, turquoise and aqua inks.
EPIC PF Green
Very strong blue-shade green. Excellent for creating turquoise and aqua inks. When making bright or yellow-shade green inks, blend with 88888MX Yellow
EPIC Yellow NM
EPIC PF Yellow
Bright, transparent yellow with green undertone. Very clean in masstone and tint
EPIC PF Fluorescent Pink
Bright, transparent pink. Very weak in color with a blue undertone.
EPIC PF Fluorescent Red
Very bright, transparent red. Used to brighten red and orange shades.
EPIC PF Fluorescent Purple
Bright, transparent purple-shade. Reddish blue undertone. Use to achieve difficult purple and magenta colors.
EPIC PF Fluorescent Blue
Bright, transparent blue with a green undertone
EPIC PF Fluorescent Yellow
Very bright, transparent yellow dispersion with green undertone.
| NAME | CATEGORY | DESCRIPTION | |
| --- | --- | --- | --- |
| Wilflex™ Epic MX Color Matching - Product Bulletin | Product Bulletin | Wilflex™ specially formulated with non-phthalate plasticizers to enable printers to product PANTONE® simulations; product information and recommended parameters | View |
| Wilflex™ Epic Series - Product Bulletin | Product Bulletin | Wilflex Epic puts the most advanced non-phthalate ink technology to work foryou | View |